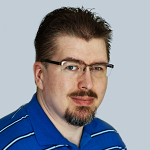 I'm offering professionally done translations both technical and regular from English to Czech or the other way around, subtitles translation and timing, website, software or mobile apps localization, proofreading services for both Czech and English, as well as professional writing of articles and texts on a wide variety of subjects in many different fields.
I can also offer you a wide spectrum of IT services, be it solving the day-to-day hardware or software issues, network and server/workstation administration, running or supporting your website or just offering general IT consultations.
Last but not least I'm also offering my photographic services, especially in the fields of landscape and architecture photography, as well as processing or postprocessing your own digital photos or scans of regular photographic films or slides, including retouching.
You can find more information on any of these in the corresponding section of my website, available by clicking on one of the links in the menu on the left side of the screen.
The basic philosophy I apply to anything I do is very simple:
"If you're not willing to do things well, perhaps you shouldn't be doing them in the first place."